This quarter Buresh Homes Solutions is giving away a FREE Amazon Echo in a drawing held June 1st.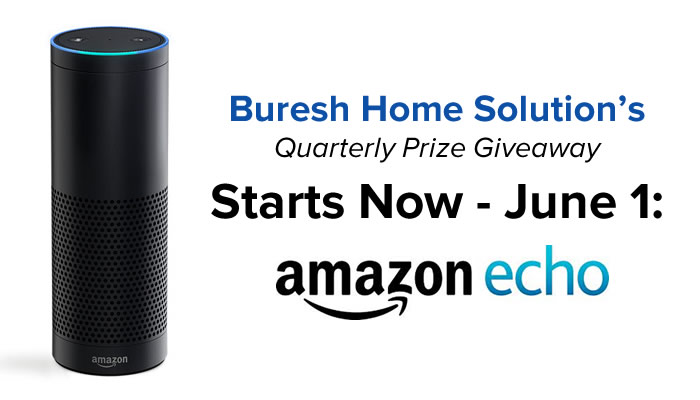 How does BRP (Buresh Rewards Program) work:
There are FOUR ways, CHOOSE ONE or more: REFER A FRIEND, PROJECT SURVEY, TESTIMONIAL OR REVIEW US:
Each take less than 2 minutes for a $179.99 prize.
*Hint: Your name goes in the drawing every time you complete one of the above. (Example: If you review us on all the social sites, complete the survey, leave us a testimonial & refer a friend, you just got your name in the pot 8 times, and $75! richer)
What we do on our end
We will be notified and alerted if you do any of the above participation.
On the morning of June 1st we will print out all the names that participated.
If you did more than one participation your name will be marked down more than once.
We have a very sophisticated process of cutting them up and throwing them into a hat.
The owner Brian will then pull one name from the hat and that person is the winner.
We will contact the winner directly and with their permission post the news to our social media sites and newsletter.
The winner will then stop in for their prize & have their photo taken for our Wall of Winners.
The best part of losing—is that your name is never removed from future drawings.. until you win! 
About the Amazon Echo
Amazon Echo is a hands-free speaker you control with your voice, to play music, provide information, news, sports scores, weather, and more—instantly. All you have to do is ask.
Plays all your music from Prime Music, Spotify, Pandora, iHeartRadio, TuneIn, and more using just your voice
Fills the room with immersive, 360º omni-directional audio
Allows hands-free convenience with voice-control
Hears you from across the room with far-field voice recognition, even while music is playing
Answers questions, reads audiobooks and the news, reports traffic and weather, gives info on local businesses, provides sports scores and schedules, and more with Alexa, a cloud-based voice service
Controls lights, switches, and thermostats with compatible WeMo, Philips Hue, Samsung SmartThings, Wink, Insteon, and ecobee smart home devices
Always getting smarter and adding new features and skills–over 100 added since launch, including Domino's and Uber