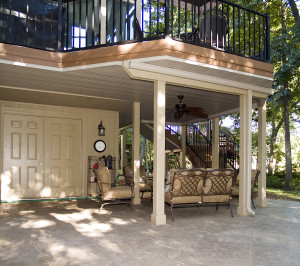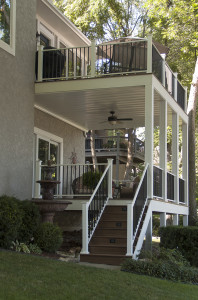 Rain Out Underdecking
Rain-Out coated aluminum under deck ceiling is a great way to help improve the watershed potential of your deck, while also protecting the space below it, to maximize your usable outdoor space. The panels of under decking system are designed to capture and route rain water that falls between the decking boards above. In other words, it gets the Rain-Out!
How does it work?
Under deck ceiling is installed. Rain falling through the gaps in your decking boards is collected by the powder-coated aluminum and channeled to the edge of the deck, to a gutter.
Rain flowing into the coated aluminum gutter in jettisoned to the downspout system, which in turn delivers the water to a designated area at ground level.
Water is deposited away from the deck and the foundation of your home to ensure it doesn't saturate at ground level. This serves the dual purpose of keeping your under-deck dry and preventing water from seeping down into your basement.
Customization
With two standard colors to choose from (white and brown), we're certain you will love our under deck ceiling/guttering system for many years to come. It'll match the aesthetic of your home and provide you with noticeable results for your deck's lifespan and integrity.