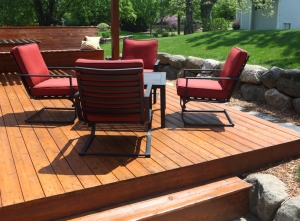 An estimated 40 million decks in the United States are over 20 years old. That's why many homeowners have undertaken the major home improvement project of building a new deck or repairing their current deck. However, there are countless new deck designs that are growing in popularity due to their unique appeal and customization options. If you're interested in collecting deck materials and designing your own deck, we've got you covered. Here's part one of our homeowner's guide that will explore some of the most popular new deck design ideas.
Deck Covering
Getting a deck covering is one of the best investments you can make in your deck's entertainment ability. It essentially turns it into something resembling a three season room, but with more of a rustic aspect. You can still host all types of events on a covered deck, as long as the temperature allows. No longer will rain stop you from hanging out on your deck and enjoying the breeze.
Deck coverings are not only functional and versatile, but they're also known to be pretty affordable, depending on the size of your deck. Contact an outdoor home improvement company for estimates on deck covering prices and installation costs.
Tiered Deck
Tiered decks can completely transform your backyard space into a usable entertainment area with multiple sections. They provide a classy look that brings light and energy into your entire yard. You may be amazed at all the things you can do with a tiered deck.
Tiered decks are often built in yard with terrain slopes in order to utilize the different levels of space. They can also help to bring functionality into a large flat space.
"If you want to highlight a view, having more than one level allows multiple vantage points. And you may choose to tier your deck space because you're seeking some public and some private outdoor areas or you want to devote an area to a specific activity, such as barbecuing," says HGTV.
Ultimately, your outdoor space should feel welcoming and inviting enough for you to feel comfortable hosting a deck party in your yard. These ideas can help you get there! Keep an eye out for the next post, where we'll discuss some more popular new deck design ideas!