Visit the roofing section of any home improvement warehouse and you'll be presented with a dizzying array of shingle choices to sort out. Historically, one of the biggest differences in these products was the length of their warranty. Common roofing warranty durations included 20, 25, 30, and 50 years and was boldly displayed on the packaging in an enormous typeface. Not surprisingly, a longer warranty came at a higher price.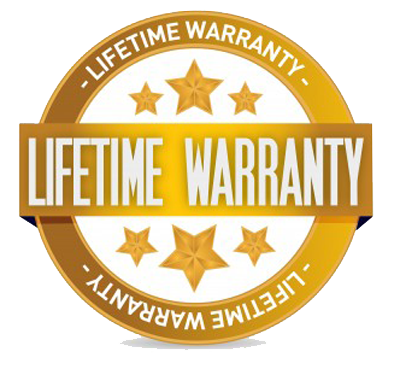 Today, the industry standard is a "Lifetime" warranty, which would seem to simplify things. But it does beg the question whose lifetime? Is it the lifetime of the home, or the homeowner? Or maybe it's the lifetime of the company that manufactured them, or the contractor that installed them?
In fact, most shingle warranties define "lifetime" to mean as long as the original, individual home owner owns the property where the shingles were installed. So, in a nutshell, if you own the home and live in it, your warranty is in effect for as long as you live there. Additionally, most roofing warranties can be transferred at least one time within a certain number of years after installation.
However, it's important to understand that all roofing warranties are pro-rated. So as the years pass, the amount a manufacturer will pay to repair or replace a roof will decrease a little bit at a time. Again, this is very much like car insurance. Without an expensive policy rider, your insurance company will not buy you a brand new car to replace one that is 10 or 15 years old. Likewise, the value of your roof and the amount of coverage offered by the warranty depreciates over the years.
Fortunately, unlike cars, the depreciation of your roof occurs at a fixed rate over the term of your warranty and isn't subject to market forces. So it's a simple matter of math to figure out how much coverage exists at any point in after the roof is installed.
As an example, a 50-year warranty is equal to 600 months of warranty protection. So the value of your coverage will depreciate by 1/600th of the original value each month after installation. Thus, after 15 years, or 300 months, your warranty will have depreciated by 300/600, or half of the original value.
In the case of a Lifetime warranty, the warranty document will specify a point at which depreciation stops. For example, CertainTeed's Lifetime Warranty stipulates that at the completion of the 40th year the reduction amount will remain at 480/600, or 20% of the total maximum liability.
It's worth pointing out here that hiring a "credentialed" roofing contractor can make a real difference in the warranty coverage that's available to you. In many cases, certified roofing contractors can offer extended warranties that expand the coverage and duration of standard warranties.
Again, these are just examples and you'll need to refer to the warranty documentation provided by your roofing contractor for your specific coverage. And if you have any questions about the duration or value of your roofing warranty, be sure to ask your contractor. Qualified roofers are proud of the products they offer and the protection that comes with them.
Roofing By Buresh Home Solutions
Buresh Home Solutions is a CertainTeed Master Shingle Applicator, allowing us to offer the highest level of warranty protection when installing the CertainTeed Integrity Roof System. In addition to the manufacture's warranty, we also offer a Workmanship Warranty on every roof we install.
We have received two Angie's List Super Service Awards (2011 and 2012) for our roofing services and we are an A-plus rated contractor with the Better Business Bureau.
You can trust us with the roof over your head. Contact us today for a free roofing consultation.