Many homeowners find themselves at a loss when it's time to hire a home improvement contractor because they simply don't know where to begin. It's easy to get overwhelmed by marketing hype and competitive messages when you're trying to select a roofer, replacement window installer, deck builder, or siding company to work on your home.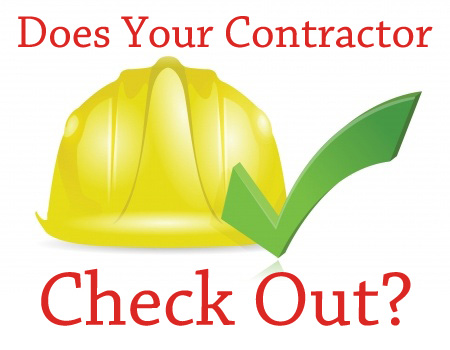 Fortunately, there are some steps you can take and some resources you can use to help you find the best local contractor for your home improvement and remodeling projects.
Follow these 9 tips for safe, successful, and satisfying results from your next home improvement project.
Before hiring a contractor, find out how long they have been in business. Look for an established company and make sure to check out their reputation with the local Better Business Bureau for any outstanding or unresolved complaints. Angie's List is another good source of customer reviews and background information for local contractors.
Always make sure that a contractor is licensed to work in the state in which the work will be done. The best way to find out about your state's licensing procedure is to contact your local building department and/or consumer protection agency. If your state requires that a contractor be licensed, always ask to see a contractor's license prior to hiring him/her for the job.
Ask for a list of recently completed projects that are similar to yours. Hiring a contractor that is experienced in projects similar to yours will help to ensure that all goes smoothly and that the job will be done correctly.
Ask whether the job will require any type of permit. All required permits must be obtained before the actual work begins or the homeowner may face a fine. It is best to discuss who will be responsible for obtaining permits, either you or the contractor, in the beginning.
Know who's in charge. Always ask for the name of the individual who will be supervising the project. This person will likely be your best source of information and updates as your project goes on. Get to know them early so you're comfortable asking questions and requesting progress reports.
Ask about the crew. Once you are familiar with the supervisor, ask him/her about their crew. You will need to know whether or not they are trustworthy and make the decision as to whether you want them working on/in your home. Will they need keys? If so, you need to know that they are honest and can be trusted near your family and/or children.
Ensure that they are insured. Every professional contractor should carry a certain amount of insurance coverage, including personal liability, property damage, and worker's compensation. You can request copies of all insurance certificates and confirm that they are current before work begins. Do not do business with a contractor who cannot provide this documentation as this may result in your being held liable for any injuries and/or damages that occur during the project.
Always check with the contractor's references. This is important for all of the obvious reasons and will give you an idea as to their work ethics and end results.
Get everything in writing. All parties involved should have a copy of the agreement for future reference.
Why Hire Buresh Home Solutions?
For more than a decade, Buresh Home Solutions has striven to provide the finest in home improvement products and workmanship at a fair price. Every project, every home, and every homeowner deserves our very best.
With that as our driving principle, Buresh Home Solutions has earned the trust and gratitude of our clients as well as several industry accolades, including an A+ rating from the Better Business Bureau and multiple Super Service Awards from Angie's List for roofing, siding, replacement windows, and several other services.
In short, when you trust Buresh Home Solutions with your home improvement projects, you can rest assured that you are receiving the highest level of workmanship and the best products available.
Contact us when you're ready to learn more.