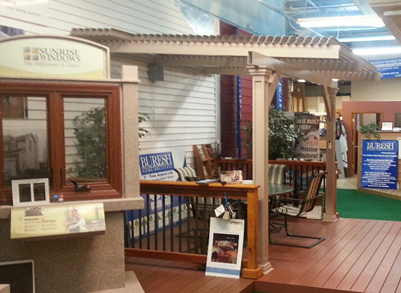 Buresh Home Solutions' Des Moines Showroom
The one-of-a-kind Home Improvement Design Center inside of Buresh Home Solutions continues to expand and improve with true-to-life examples of our workmanship and the top quality products that we install. The latest addition is a full-size, fully-functioning aluminum patio cover from American Louvered Roof Systems.
Buresh Home Solutions Design Center now features a full-size aluminum patio cover display from American Louvered Roof Systems.
Adding this unique deck cover to our existing displays of siding, windows, doors, and decking continues our policy of offering life-size samples of the first-rate home improvement products that we offer.
We've never understood how other companies can expect you to make such important choices and such sizable investments from sample boards that fit easily into the trunk of a traveling salesman's car. So we built full-size mock ups of home exteriors and then installed the very same siding, entry doors, replacement windows, decks – and a now a patio cover – that we install on the homes of our clients.
As you can imagine, it's an expensive and challenging undertaking to build and maintain a home improvement showroom of this scale and complexity. But when we see over and over again how much it helps our customers to visualize the products installed on their own homes, we know it's worth the effort. And in many cases, there are product qualities and features that are really only apparent in full scale. And there's simply no better example of that then this aluminum patio cover.
In the comfort and controlled climate of our showroom, you can now see all of the great features and benefits of this system as if it were actually installed on your home. You can see and feel the extruded aluminum, powder coated components that make this deck roof the most attractie and durable on the market. You can use the simple remote control yourself and see how quickly and quietly the patio cover transitions from full sun, to partial shade, to full shade. You can envision how the many optional features can be configured to meet your needs. And when you're ready, we can sit down beneath the patio cover and design a custom system for your outdoor living space.
The Buresh Home Solutions Design Center is located at 9379 Swanson Blvd. in Clive, Iowa. Hours are 8:00 to 5:00 Monday through Friday with limited appointments also available outside of regular business hours.
Call us today to schedule a tour of our design center and see for yourself just how good your home can truly look.