Entry doors were a big item for us in 2012. I believe we easily installed 10 more entry door systems than in the previous year. Most of those homeowners came to us because they wanted the curb appeal that a new door offers. But what many of them didn't realize until speaking with us is that a new front door can add tremendous value to a home in addition to improving it aesthetically. Of course, energy savings and security are also key benefits that you'll gain from upgrading your entry doors.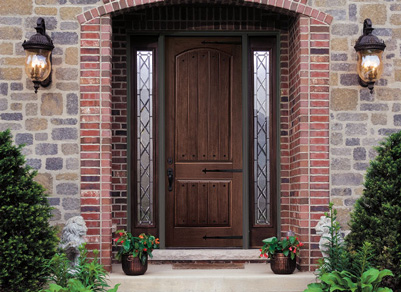 Pella home entry door
In fact, Therma-Tru did a study to measure how much a new entry door can add to the value of a home. Turned out to be as much as $8000 to a $190,000 home. Additionally, Remodeling magazine, in their 2012 Cost vs. Value Report, stated that doors returned nearly 51% of the installation cost in added value.
Not Just Any Door Will Do
During our ten years of serving Central Iowa homeowners, Buresh Home Solutions has installed a variety of doors, from many major manufacturers and even some right off the shelves of the big box stores. That experience has taught us, and unfortunately our customers, some important lessons.
First and foremost – not all doors are not created equal! The door market is unique in the home improvement industry because the majority of doors you find are actually assembled at a local millwork shop or lumber yard – the door itself may have come from a big name manufacturer, but the frame is added later at these local shops. There are actually very few door manufacturers who ship fully assembled units. This is also why replacement door warranties often do not cover the frames. That makes sense – why would a manufacturer warranty something they didn't build themselves?
There was a time when we instructed customers to buy their door at a big box store and we would install it. We also bought our share of locally-assembled doors from nearby millwork shops. Experience has taught us not to do that anymore.
Too many times when, a warranty issue arose, we had to slog through the frustration and complication of making a claim through multiple channels. We have wasted hours upon hours and thousands of dollars trying to solve problems and protect our customers from issues that we didn't create.
No More
Today, we put our trust in one of the most recognized names in premium replacement doors and windows: The Pella Corporation. This Iowa-based company is one of a very select group of door manufacturers that design, engineer, manufacture, assemble, and deliver complete entry door systems all across the country.
Pella doors also meet Energy Star guidelines and are tested, rated, and labeled for air and water infiltration. This testing is very similar to the testing information used to grade windows.
Pella entry doors are almost endlessly customizable and are backed by one of the strongest warranties in the industry. They also have two exclusive features unique to Pella products called AdvantagePlus Protection System, which reduces maintenance, and Performa Seal, which creates a virtually impermeable barrier to handle the most extreme weather conditions.
Even with all of these advantages, though, the biggest benefit of buying your entry door system from Pella is the service after the sale. If you have an issue with your door, Pella has local service people to take care of it. One phone call and the fix is in motion. This is why Buresh Home Solutions partnered with Pella to offer their entry door systems to our customers.
Call us at 888-428-7374 or contact us to learn more about a Pella Entry Door System for your home.