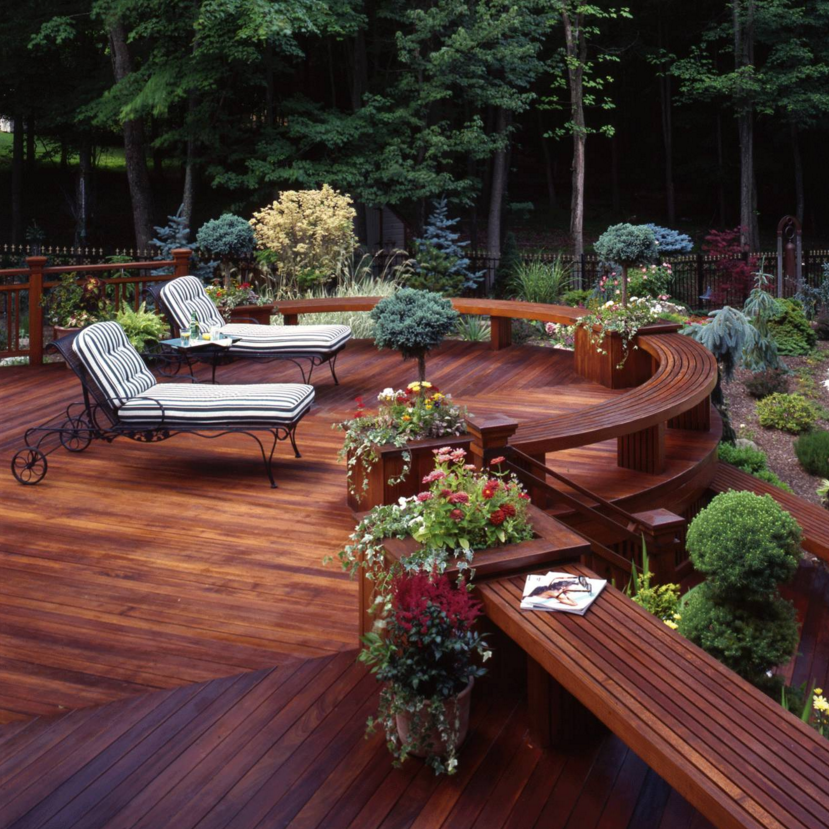 Images from Houzz.com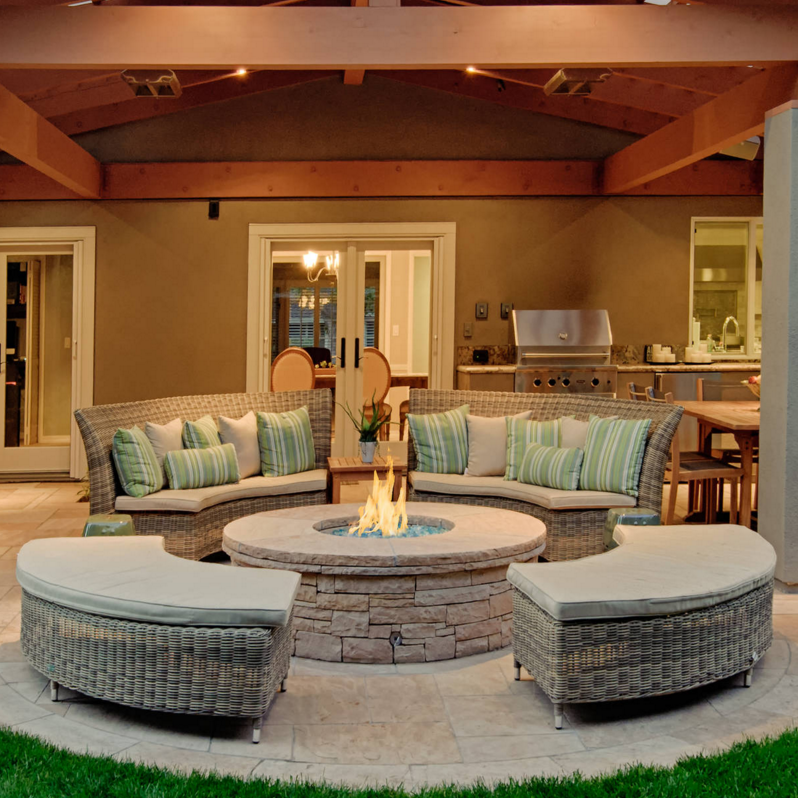 While you're planning your exterior living space this winter, and you're struggling with whether to put in a deck or patio, maybe this breakdown can help you decide what would be best.
A deck is a platform built to meet the foot of the exterior entrance of your home, a deck was originally constructed of wood, but now there are various options to fit your needs.
A patio is a solid platform constructed on the surface of your yard, sometimes meeting the exterior entrance of your home.
Purpose
When considering what option would be best for you, you want to think about how you're going to use it. The answer is easy if you're needing a second floor entertaining space, then you will need a deck. For everyone else, you may have more options to consider.
How much do you entertain? (Never, sometimes, all of the time)
What will fill the space once you create it? (Tables, Grills, Planters, etc.)
Think of a layout that works and has a good flow? (Cooking space, Seating space in proximity to door, etc.)
Consider what you want in the space and design for that. (BBQ, Fire-pit, Bar, Tables)
Deck
If your home exterior door is several feet off your home you now have to decide, do I want to build a deck off this entrance? How big of a space do you need, but also consider the size of your home. You don't want a tiny deck with a huge home and vise versa. If you are entertaining a lot, you want to insure that the deck is strong enough to accompany the extra weight. Have a well thought out idea of what you are going to fill the deck with and ensure there's enough space for what you want to do and in a layout that makes sense.
Patio
Patios are a bigger investment in decks, but they double the lifetime of most decks. They are also a bigger commitment, because you will be tearing into your yard to create the space. A patio adds a sense of richness and warmth that you don't get with most decks. Make sure that you have a well thought out plan that accommodates all the uses you have in mind.
Pros and Cons
Deck Pros
Decks can be built up to second floor spaces, where patios are constrained to the ground
Decks lift you off the ground away from some insects and pests
There are many options that fit any budget
New technology has made it possible for decks to last much longer than they used to.
Location Creativity
Deck Cons
Poor installation can create unsafe situations.
Wood decks need resurfaced, and prone to rot and mold.
They can be a shelter for unwanted insects and pests.
Higher quality materials can be expensive.
PVC and vinyl materials have fewer color selections
Decks have limited weight capacity
Patio Pros
Low maintenance
Variety of materials: concrete, brick, tile, stone, etc.
Strength and longevity
Patio Cons
Foundation shifting and ice can create cracking or movement.
Needs power-wash every couple of years.
Limited design options
Site preparation for placement, grade and drainage
Privacy
Deck
Decks can lift you above the view of your neighbors creating privacy. Plus there's more flexibility with built-in walls, screens and covers for optimum privacy.
Patio
Patio privacy from your neighbors relies more on trees and shrubs, or privacy fencing to create that sense of seclusion.
Material Options
Deck
Cedar Decking: beautiful and natural. Cedar is moisture and mold resistant, but still needs maintenance.
Green Treated Decking: beautiful, natural and more cost effective than cedar, but requires the most upkeep.
Wood-Plastic Composite: a well priced option with a selection of colors, and no painting needed.
Capped Composite Decking: has an extra shell of fade and stain resistant protection.
PVC Engineered Decking: lasts a lifetime and resistant to fade, wear and tear.
Patio
Stone, Brick and Slate Pavers: Large variety of colors and styles, and lasting beauty and appeal.
Composite Pavers: Made from recycled materials, not only eco-friendly, but less prone to cracking and chipping.
Concrete: by far the cheapest option, but lacks warmth and style pavers provide.
Stamped Concrete: needs professional installation, still prone to cracking and shifting
Cost
Deck
Deck costs vary when considering what type of material will be used, the size, complexity, and finishes, such as rails, lighting and built-ins.
Patio
Patio costs also vary when considering material, style, size and yard complexity. What natural elements: yard pitch, trees, etc. will get in your way. Do research on what products have the better return on investment (ROI).
Installation Cost + Product  Cost + Lifetime Maintenance Costs = Total Investment
Total Investment / Lifetime Expectancy = Yearly Cost of Investment
(The lower the number, the better the investment)
When comparing deck vs. patio and cost, consider all the elements above and if you're having trouble deciding, select the materials and size of both a patio and a deck that you desire. Then consider what upkeep and maintenance costs are required for both. After adding up all the projected costs of maintenance, add that to the price of the product and installation costs, then divide the total investment by the life expectancy of both the deck and patio to evaluate which is more cost effective.
n conclusion, there is no right or wrong answer when considering, what is better. One isn't better or worse than the other, it all depends on you as the homeowner and your wants and needs that will fit your family lifestyle best.