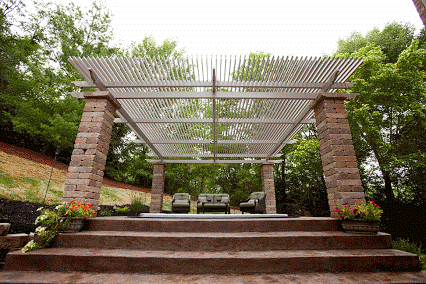 A few months ago I was introduced to a louvered roof system. If you're asking yourself "What's a louvered roof and why would I want one?," you're not alone. When I was first invited to take a look at the product, I honestly had no idea what to expect. And it turns out that only about 3% of people in the U.S. actually do know what a louvered roof is. But I'm betting that will change when people see what this system is all about.
Back to my first look: As the representative from American Louvered Roof Systems started showing me photos of the product installed around the country, I thought, "Okay…it's a pergola."
Don't get me wrong, pergolas are great features and we've built dozens of them. I had even been thinking of adding one to my own patio to make that outdoor space more usable. That's what pergolas do. They block the sun, at least partially, so it's more comfortable to spend time on your deck or patio when the sun is bright and temperatures are high. Even so, pergolas are hardly revolutionary.
The only immediate difference I could see between this "new" product and an ordinary pergola was the materials. Whereas our traditional pergolas are built with 2×6 and 2×2 treated lumber, this patio cover appeared to be made from metal. (I would learn later that it's powder-coated extruded aluminum.)
At this point, I had all but concluded that this was a moderately interesting product, but nothing groundbreaking. Then he flipped the switch.Well, he didn't flip the switch, exactly. But he did show me a video of someone flipping the switch. And this product that I had all but dismissed responded by closing down on itself, so rather thanpartially blocking the sun, it now provided perfect shade.
That, the representative explained, can lower the temperature of your outdoor living space by 15 to 20 degrees. Think about that for a second – that's the difference between an insufferable 95-degrees and a very pleasant 75-degrees. With just the flip of a switch. (A remote control switch, at that!)
As impressive as that is, it isn't even the best feature of this deck cover. Turns out the product was developed in Australia, not to mitigate the heat from the equatorial sun, but rather to provide shelter from the rain that falls, on average, 132 days out of the year in the region where this product was first imagined.
Now that is revolutionary: a mechanized pergola that can be closed to create a 99-percent watertight barrier. A typical pergola is about 1-percent watertight. Sure, a few drops of rain will land on the structure, but most of it is going to fall right through and land on your patio, the patio furniture, the grille, and you (if you happen to be too stubborn to come in out of the rain).
Fast forward about four weeks and you'll see that I have fully bought into this system for both my home and my business. I immediately installed a louvered roof system at my house (pictured) and my family has been enjoying the benefits of it all summer long. And I also became the first, and currently only, home improvement contractor in Iowa to offer American Louvered Roof Systems to area homeowners.
If you'd like to learn more about a louvered roof system for your outdoor living space, give me a call or contact me today and I'll gladly show you why I chose to own and offer this innovative new product.